Time for some quick random items about… well, they're in relation to this week's unfortunate news out of Orlando, Florida and its aftermath.  Let's begin with the matter of the funerals for the 49 victims of the tragedy at the Pulse nightclub.  Some of the funerals will take place on Saturday (June 18).  That's when a certain group from Kansas who adhere to a very, very anti-gay message (and for that reason I will not dignify them by including their name here) have promised to raise their voice and make their presence known at the funerals.  It's their hateful, shameful, and truly horrendous way of "celebrating" the death of a gay person.
Fortunately, there are people who are strong enough to counter the disrupting wicked witches from Kansas with a message of peace and love.  This is thanks to the Angel Action project, who since 1998 have sought to keep anti-gay protesters from the funerals and their mourners.  Angel Action is the brainchild of Romaine Patterson, a LGBT activist, radio personality, and friend of the late Matthew Shepard.  It was at Shepard's funeral (following his brutal murder) where Patterson organized a counter-protest to the hateful Kansans by having people construct and wear angel costumes (complete with large wings) which served as a curtain between Shepard's funeral procession and the protesters.
This week, staff and volunteers at the Orlando Shakespeare Theater constructed "angel wings" that will be worn on Saturday in Orlando to, as Orlando Shakes' artistic director Jim Helsinger told the Orlando Sentinel, "show their support, proclaim love, and block the view of mourners from potential protestors."  And, yes, the "Angel Action" folks have a counter-protest permit from the City of Orlando.  Even without the counter-protest purpose, donning angel wings is a beautiful way to provide dignity for the deceased and their mourners, something those nitwits from Kansas don't want to provide.
---
When tragedy comes to a city, state, or nation, part of the mental recovery has included sports.  Thinking about the fortunes of the local team or teams can help take peoples' minds off of an unfortunate and tragic incident.  The teams know their role in lifting a city's spirits, and two teams in Central Florida are no exception.  Let's start with baseball:  Since Orlando has no baseball team of their own (major or minor), the big league team down the road, the Tampa Bay Rays, are stepping up to the plate to provide emotional and financial support to Orlando and its LGBTQ community:  Tonight, the Rays are staging their annual "Pride Night"; the event was already scheduled in advance, but it is now being dedicated to the Pulse nightclub victims.  The game against the San Francisco Giants is a complete sellout (40,000 people are expected at Tropicana Field in St. Petersburg), and the activities and honors include the following:
One hundred percent of ticket proceeds for the game since Tuesday, as well as proceeds from a 50/50 raffle, will be donated by the Rays to support a fund dedicated to the Pulse victims.
Donation centers are set up throughout Tropicana Field; a blood drive is also included, with those donating blood receiving a voucher for two tickets to a future Rays home game in the 2016 season.
Memorial displays and a pre-game ceremony dedicated to and honoring the Pulse victims.
A black-and-rainbow "We Are Orlando" t-shirt for every fan attending the game, which can be seen in this article.
And to (literally) cap it off, the Rays will wear "throwback" caps from their former minor league affiliate in Orlando.  That Southern League team was known as the Orlando Rays.  The "O-Rays" sported an identity patterned after their parent club's original "Tampa Bay Devil Rays" identity, complete with the cap shown in the below tweet.  That "O" is not your eyes playing tricks on you; the Rays' (and Devil Rays') original color scheme included an almost rainbow-like gradient.  The game-worn caps will be autographed and auctioned off online beginning Monday, with full proceeds going to the Pulse victims.
But it's not like Orlando's own sports teams are sitting on their hands in this time of grief:  The city's Major League Soccer team, Orlando City SC, will honor the Pulse victims in their home match on Saturday night.  Orlando City, also nicknamed the Lions (because the team's logo features a lion), are collaborating with Orlando's other pro teams to sell t-shirts emblazoned with a multi-colored kaleidoscopic heart and #OrlandoUnited hashtag; net proceeds from the t-shirts (and  posters that bear the same heart logo that will be sold at the match), will support the OneOrlando Fund that is supporting the victims.  (The Lions also made a direct monetary contribution to OneOrlando.)
But what else are the Lions doing on Saturday night?
Just as the victims will be honored in pre-game ceremonies, first responders and support services personnel will also be honored and will receive donated game tickets.
A variety of tributes will be paid throughout the game to the 49 victims who lost their lives at Pulse, including a 30-second stoppage of the game in the 49th minute for a moment of silence.
Independent of the team, fans of the Lions are planning a rainbow arrangement in the seating areas; fans in one section are being asked to wear red, the next section asked to wear orange, and the same for yellow, green, blue, and purple. (Click here for a layout and you'll see what I'm talking about.)
The Lions' new stadium, which is under construction and is scheduled to open in 2017, will have a permanent rainbow memorial section; it will be found in Section 12 of the stadium (since the Pulse tragedy occurred on June 12).
(6/19/2016 UPDATE)  I didn't learn about this until after the match, but the Lions also marked off, with rainbow-colored balloons, a 50-seat section of their stadium during the game; one seat was left open for each of the Pulse victims, and a 50th reserved in memory of singer Christina Grimmie, who died in a separate incident in Orlando just over 24 hours before the Pulse tragedy.  The Lions also used rainbow flags at each corner of the pitch during the game (soccer fans know that's where corner kicks take place).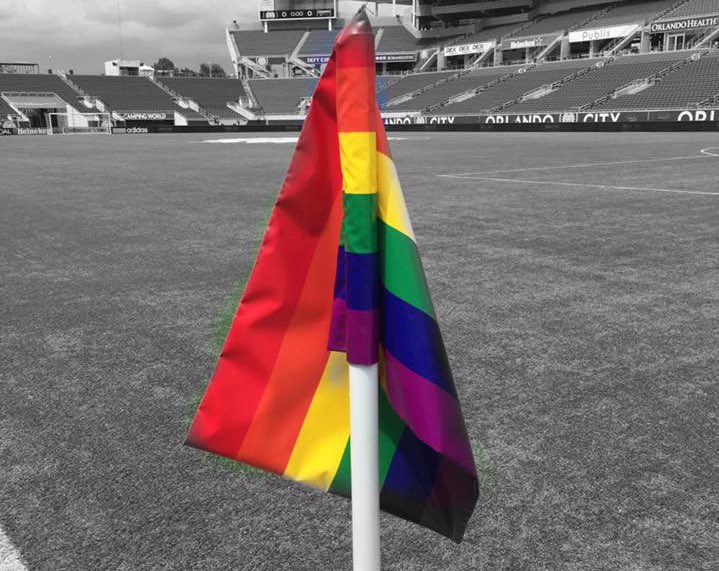 ---
There have been many stories coming out of or inspired by the Orlando tragedy.  Just have others have told stories about their experiences at a gay bar (as I re-shared with the world this week), others have told about meeting up with new friends, acquaintances, etc. in one of Orlando's LGBT bars.  One notable story I heard while driving home tonight came from Ari Shapiro, an anchor for NPR's All Things Considered who was among those the network sent to Orlando to cover the Pulse tragedy and its aftermath.  A decade ago, Shapiro was based in Miami for NPR and was on a reporting trip to Orlando.  One quiet Monday night, he decided to have a night out on the town and head to a local LGBT bar (he couldn't remember its name), where he struck up a conversation with two bartenders who were working the bar.  They invited Ari out again the next night (their night off), and…
Well… I better not spoil the rest of Ari Shapiro's story in this space.  So, I must recommend that you listen to the rest of the story on the NPR website.  In that audio, Shapiro notes he told his decade-old story to someone he was interviewing this week, and he learns exactly where that bar was… a place where two staffers working on a quiet weeknight didn't want him to feel alone.  Shapiro's recollection of the story — and the brief pause when he learns the name of the place — come across as real, honest, and, to this listener, startlingly powerful.