Okay, peoples, just a quick post to highlight some outfits I recently spotted that feature that oh-so-wonderful, go-with-almost-anything fabric… leather!  Well, at least the look of leather.  With the calendar now saying it's mid-December, one would think that most of the fall outfits would have been cleared out of the store racks in favor of winter wear, and with it most clothing items (pants, skirts, dresses) that include real or faux leather.  Not really if a couple of retail displays are to be believed.  This outfit was spotted at JCPenney and consists of leather leggings (okay, polyleather) along with a comfy oversize sweater.  That oversize top lends a casual feel, making it perfect for a nice, quiet night at home with that romantic someone.  But it's the glisten of said top and the elegance of the leggings that also make it suitable for a tree-trimming party with friends.

---
But if you're not keen toward being cooped indoors and want to venture out, a couple of Calvin Klein outfits displayed at Boston Store may be perfect.  I really like the sophistication of the outfit on the right, featuring leather slacks, a matching black top, and a gorgeous red blazer.  There's leather on the left outfit as well in the form of that comfy jacket, and it's perfectly paired with a short yet flowing dress underneath.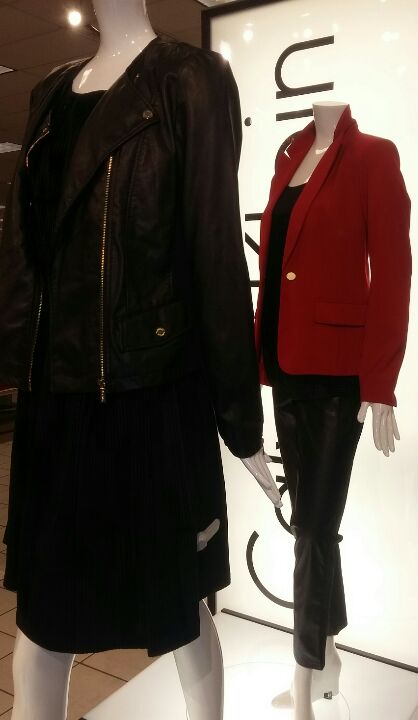 ---
While leather is oh-so-stylish and fierce, it can't always keep you warm on a cold winter's night out.  At least here in southern Wisconsin, it's been a rather warm December so far.  But when the temperature dips to below freezing (and it certainly will here in Wisconsin), you'll need a warm coat.  This display, also spotted at Boston Store, has a nice spotted animal print (it's not real fur, mind you).  It's comfy, just the right (over)size, and goes very well with the leather skirt and flowered top underneath.  I love the accessories as well, including the boots, black hosiery, and cap.  Doesn't this outfit just scream "I look like a million bucks"?