Okay, peoples, with 134 blog posts complete, let's devote post #135 to some fashion I spotted last weekend at the Hilldale location of Macy's, beginning with the whole "It's Beginning to Look a Lot Like Christmas" theme despite it not yet being Thanksgiving yet. (Christmas just keeps coming earlier and earlier every year as this post from October verifies.)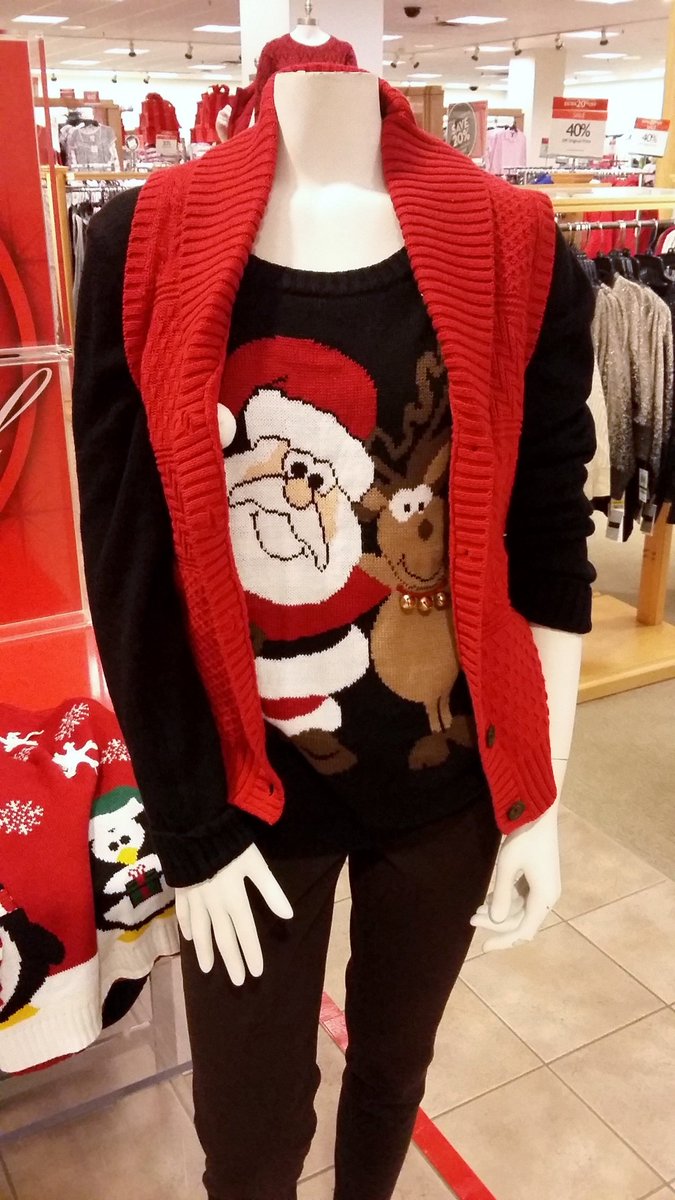 If you have a child or if you're a child at heart, you might get a kick out of this cute, whimsical depiction of Santa and one of his reindeer being all buddy buddy.  There's something about the joyous expression on Santa's face that just gets to you at the holiday season.  There's something, too, about this sweater being matched up with a vest with heavier fabric and contrasting color (red, in this case); it creates a cozy feeling for that long winter's night.
But if cute caricatures of jolly old elves aren't your thing and you just want your sweater to just state flatly, "I Love Christmas," might this outfit whet your whistle?
Obviously, there's a lot of warmth in the top half of this outfit:  The sweater, for starters, but also the hat, scarf, mittens, and velvet-like vest.  The lower half, though, has a lot of edge:  See-through skirt, socks (perhaps more than one pair?), and boots that look well suited for if and when you have to trudge through a lot of snow or rain.  Note, too, the metallic gold waist band on the skirt; it already has an angelic feel, but the gold really emphasizes it.  Overall, this is a really nice outfit; swap out the Christmas-themed sweater for a non-holiday version and you also have an outfit that's well-suited for any time during the late fall or winter.
But you might be wondering, "I don't want to appear as if I'm an extra in one of those oh-so-gooey Hallmark Channel movies this holiday season.  I wanna be glamorous!"  In that case, I have three words for you: Lauren Ralph Lauren.  Repetitive, yes, but it's the name of the line Macy's has been highlighting, as this display verifies:
Look first at the cap-sleeved lace dress in the foreground, which appeared in person to be as red as it does on this link than the burgundy shade you see here (blame my phone's camera settings).  The yoke and neckline really emphasize the lace fabric, and the V-back and the way it darts out at the chest adds to the drama.  Note, too, the drapes along the left side of the waist; apparently it's an intentional part of the design (and not as obvious as, say, the waist knot on this Ellen Tracy sheath dress, which is nice looking in of itself).
If you don't want to go all lacy, the faux suede dress in the background is a nice option.  Sure, it doesn't have the drama of the lace dress, but it's a smooth, beautiful fabric.  Simple and understated by itself, the dress pops with the addition of the red necklace.  These were just two of the many Lauren Ralph Lauren dresses Macy's has available on this search on their website, and you really can't go wrong with any of them.
And for those who recall this post in June in which I highlighted a faux suede polyester dress I found at Goodwill, I found this Calvin Klein dress that's its current (albeit more expensive than Goodwill) analog:
Let's get the obvious differences out first:  This is red/black, whereas my dress was blue/black, and it's sleeveless.  But just as with my dress, this dress has a simple crew neckline, suede-like fabric, appealing length, and more obviously, a dramatic color block design.  The blocking and diagonal fabric seams create have an eye-catching appeal.