Greetings, peoples!  Since moving to Madison, Wisconsin, I've taken a liking to the vibe of this town.  And for a while now, I've contemplated about adding a feature to this blog that would highlight the interesting features and facets of this fair city.  Well, here's the start of that feature, which I'm calling "Allison in Madison."  No, that category name is not an ego thing, just more of a a play on my WordPress and Twitter user name.  Yes, there may be a few photos featuring yours truly in these posts, but it's mainly meant as a way of saying, "Hi, my name is Allison and this is [insert Madison area feature here]."
I'd like to preface this post by making note of a realization that dawned upon me last spring, and if you follow me on Twitter, you probably saw me mention this in passing recently:  The last day of August marked 13 years since I moved from Green Bay to Madison.  That date fell on Labor Day weekend 2002, which was just before another set of youngsters were about to enter kindergarten.  This spring, as I was driving to work and saw a sign in front of a nearby high school promoting their upcoming graduation ceremony, I realized that those kids about to graduate were the same ones entering kindergarten after Labor Day weekend 2002.  Now, they're in adulthood as college students, military recruits, or whatever was in their plans.  It made me realize two things:  First, that I am old. *LOL*  Second, that both I and them had experienced a notable amount of changes and moments in this city's history during these 13 years — moments both good and bad, joyous and tragic, celebratory and controversial, along with changes major and minor, cosmetic and superficial.  They are all changes that affected us and our city in one way or another, and I'm sure they will remain in our memories for years to come.
I'd also like to add a personal preface:  Last month, I had planned to get all dolled up as Allison and march in Madison's LGBT pride parade.  Unfortunately, a familial situation scuttled those plans at the very last minute (everything is all right on that front, I'm happy to say).  Even though I couldn't do it then, I still promised dared myself to dress up and venture amongst the people of Madison.  And I also wanted to do it in an atmosphere where a faux girl like me would blend right in.  And that opportunity happened this past Sunday afternoon:
Yep, that was me in that selfie.  My makeup wasn't perfect; my hair certainly wasn't perfect, either, as a couple of strands got wrapped up in a jacket button; and that jacket's sleeves felt a little more tighter than the last time I wore it.  But despite all that, I blended right in at the Willy Street Fair.
As I previously mentioned in a March post, Willy Street Fair is a block party (or three blocks if you want to nitpick) held the last weekend before the autumnal equinox along the eclectic avenue that, while it's officially known as Williamson Street (see the above signpost) is referred to as simply "Willy Street" by virtually every Madisonian.  Willy Street is the most prominent thoroughfare in Madison's Marquette neighborhood, which leads to another brief descriptive for the area, "Wil-Mar" (Williamson Street plus nearby Marquette Elementary School).
I'll talk up more later about the neighborhood in general and Willy Street in particular, but I want to highlight the Willy Street Fair before that.  First held in 1977, Willy Street Fair is really a celebration of the people who live, work, or visit Wil-Mar.  And it's an eclectic bunch to be sure, everyone from young adults and professionals to aging hippies to close-knit families of various stripes.  The party is free and open to everyone, even those outside of the immediate Wil-Mar neighborhood (such as the West Side resident who writes this blog), who feels a connection or admiration towards those tight city blocks.  No less an authority than the Chicago Tribune, in a 1998 feature article, has called Willy Street Fair "a hip dose of Madison," where for two days (not just the one day they state in the article), "some very eclectic music, good ethnic food, drink and a cast of colorful characters make for a merry time."
As the artist list at right notes, Willy Street Fair does stretch out for two days (Saturday and Sunday); to be fair, though, to that 17-year-old Chicago Tribune article, Saturday is the lightly-attended of the two weekend days when the event is held.  There are fewer vendors, performers, and promotional tents set up on Saturday.  As well, there have been some Saturdays over the years when the fair goes up against stiff local competition, namely Wisconsin Badger football; this year was no exception, as the fair's Saturday slate went up against a Badger home game late in the afternoon.  (It was a non-conference game, but football is football and the Badgers are the Badgers.)  But still, the streets are blocked off and some folks still come out, so think of Saturday as an appetizer for Sunday…
Because on Sunday, that's when Willy Street Fair really livens up.  And that party atmosphere begins promptly at 11AM with the Willy Street Fair Parade.  Even though many of them will still get some notice in the fair, the parade before it shines a spotlight on the musicians, dancers, stilt walkers, jugglers, performance artists, roller skaters, hula hoopers, soap bubble blowers, unique costumes (there are a lot of those), and groups with messages of great social importance — all of whom add to Willy Street and Wil-Mar's bohemian character.
Now I must confess I didn't arrive to this year's Willy Street Fair in time to catch any of the parade.  Yes, I got out of bed early enough, but my wig and clothing choices did not want to behave.  In a partial defense, though, I did arrive in Wil-Mar after 11:30, thinking I would still catch the tail end of the parade.  But street parking is such a premium in Wil-Mar, as it always is (no towering $1/hour parking structures here), so I wound up parking about 6 blocks a way and made the long walk to the fair.  At least one good soul captured the fair parade and posted it to YouTube, which I've embedded below. (Note of respectful advice to the auteur: Turn your camera phone sideways; the landscape format captures much more than portrait.)  I did capture some of last year's parade, which you can view at this link.
Despite missing this year's parade, I did have my still camera at the ready for the Willy Street Fair.  I also had my rainbow socks (to stand out) and male mode walking shoes on, because even after walking several blocks just to get to the fair, walking up and down 4 more blocks can tire a girl out (no high heels for me on Sunday, that's for sure).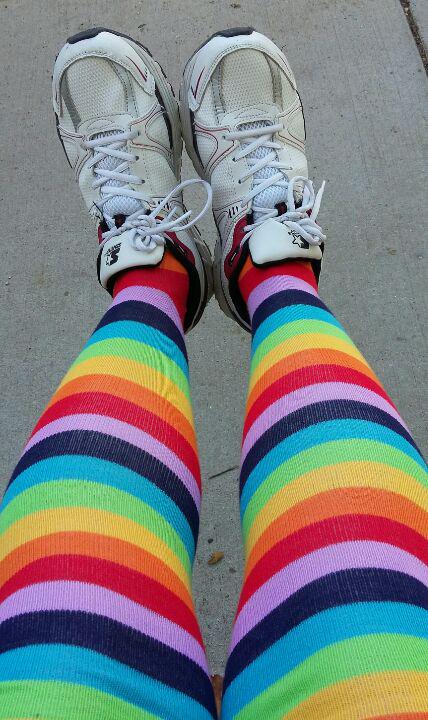 Willy Street Fair features tents housing not only local social clubs, community organizations, and a prominent business or two, and there are also small businesses offering and selling their services and wares, everything from aura analyses and massages (not that kind of massage; get your head out of the gutter) to jewelry and buttons to hand-knitted clothing and accessories.  There are also food stations offering sandwiches, barbecue, ice cream, and the such.
Along the way, Willy Street Fair offers stages full of musical entertainment, all featuring local acts (familiar favorites, up-and-comers, and anything in-between) playing a variety of musical styles.  Below is an image of one such act on one such stage: Meghan Rose & the Bones on WORT's Underground Stage.  (That's Meghan Rose rocking out in the shorts; I love her boots, too.)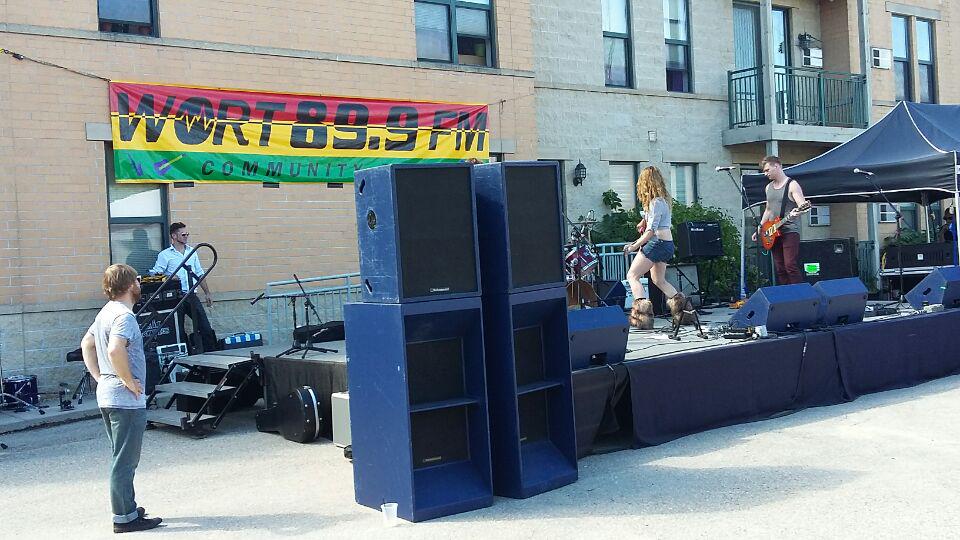 And if you think all there was in terms of music was rock or folk, here is a percussion team that camped out on the street, in between a couple of sale tents and away from the major stages.  They really did a great jam.
Several groups, sellers, etc. come back to Willy Street Fair every year.  One such returning entity I never tire of seeing is this tango dancing demonstration. I don't know where this couple is from (a local dance school, perhaps?), but they do dance so divinely.  The music is beautiful (at this particular instance a romantic song from the 1920s or 30s), and the pair and their movements are lovely and enchanting to even the hardest-to-please passerby.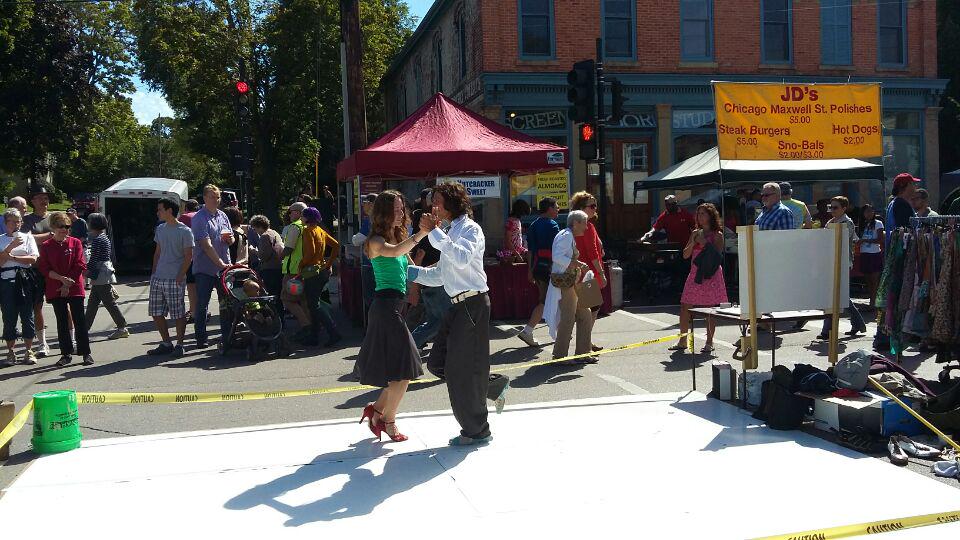 If the kids get bored or restless at Willy Street Fair, they can burn off energy at a children's area, which features a rock climbing tower built just their size, kids-oriented music and dancing, and several other activities that will pique their interests.  A few feet away is something else the kids will find alluring, something that has also been a Willy Street Fair mainstay: The "BubbleMobile," an old Cadillac tricked out in brass tubas that billow bubbles the way lava erupts from a volcano.  Add other bubble wands big and small (including ones the visitors bring themselves), and you have more bubbles than The Lawrence Welk Show.
Oh, and did I say there were costumed characters and stilt walkers?  The stilt walker below left stood almost twice as tall as I did (I measure 5′ 5″), and her outfit was cute.  And I was far from being the only person in a nice outfit and a wig; heck, I blended in very well with the pink-haired lady shown below right.
And speaking of friendly people in cool outfits, here I am in a photo with members of the Mad Rollin' Dolls, which is Madison's very own roller derby league.  They have also made regular appearances at Willy Street Fair over the years, to promote their upcoming season and to sell merchandise. Don't be intimidated by the unique names and crash helmets; they're really friendly people. (One of them showed their gratitude by shaking my hand before I departed.)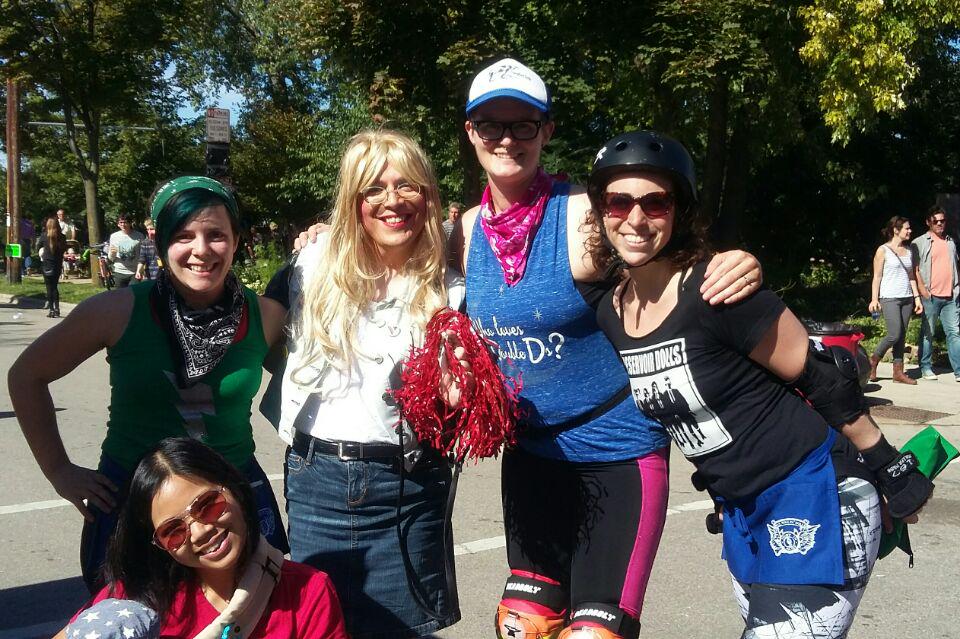 ---
So, I'm pretty sure you now have the idea of how amazingly awesome Willy Street Fair is.  The same goes for the Wil-Mar neighborhood as a whole.  Wil-Mar is one of Madison's oldest neighborhoods, with some architecture dating back to the 19th century. It's also visually quite eclectic:  Grand homes along Lake Monona; bars, restaurants, shops, and other businesses along Willy Street; modest homes and flats in between; lots and lots of green space, including a newly developed central park just one block north of Willy Street.  The residents of Wil-Mar are very protective of the area's unique character; its neighborhood association sees to that, thanks to a plan developed in the early 1970s that preserves Wil-Mar's charm to this day.
And Wil-Mar and Willy Street has indeed remained vibrant.  If community leaders hadn't been careful, if they did not have the foresight to preserve the neighborhood, and if they had not kept residents engaged, Wil-Mar could today have been nothing more than empty factories, dilapidated buildings, chain stores, and perhaps even a freeway.  Instead, it is a neighborhood worth keeping and preserving.  This goes for Willy Street itself, where you can find the following:
The preservation of Wil-Mar has not gone without national acclaim:  the American Planning Association designated it one of its "top ten great neighborhoods" in 2013, ranking Wil-Mar right up there with the likes of San Francisco's Chinatown and historic Beaufort, South Carolina.  Pretty amazing, huh?
Of course, life in Wil-Mar isn't without its difficulties and tragedies, and with that I direct your attention to this photo:
This, ladies and gentlemen, is the very apartment house on Willy Street where back in March, a 19-year-old kid lost his life at the hands of a Madison police officer responding to an incident.  The kid was of mixed race, was unarmed, and wasn't doing anything that merited his losing his life.  If you recall in a post I wrote right after what happened, the incident generated a lot of controversy and upset feelings, which was further aroused a couple of months later when prosecutors declined to prosecute the officer in the shooting ("lawful use of deadly force").
Yes, there are still upset feelings lingering, still a lot of flowers and memorials posted at the door (on the left of the photo) where the shooting took place… and still a feeling of calm despite the anger.  Madison as a whole and Wil-Mar in particular has shown our protesting yet peaceful side.  Anger has been shown, but we've stayed strong together.
And that's one of the better things about Madison and Wil-Mar:  Problems and issues remain, but we deal with them, we raise our voices, and we find solutions to them… together, peacefully.  And when times are good, the community comes together, welcoming each other in harmony and celebration, during Willy Street Fair and the other 363 days of the year.