Hey there, peoples!  I got out of the house at midday Saturday and went to West Towne Mall to check out some on-the-rack clothing.  Since it's late August, back-to-school sales are in full swing, and proof of that greets you the instant you walk into JCPenney.  The display shown below is part of their school sales push, featuring the tag line "Bend the Trend."  The tagline's idea, to this layperson: Mix and match any style you like and, voila, that's you.  The idea is on display below, where the marketing display team is showing off pairings of a leopard print jersey shirt with workout pants ("gym-tastic!") and a mom-like print shirt with stylish skirt ("sophisti-casual!"), along with a run-of-the-mill combination of big shirt and distressed jeans ("plaid-posterous!").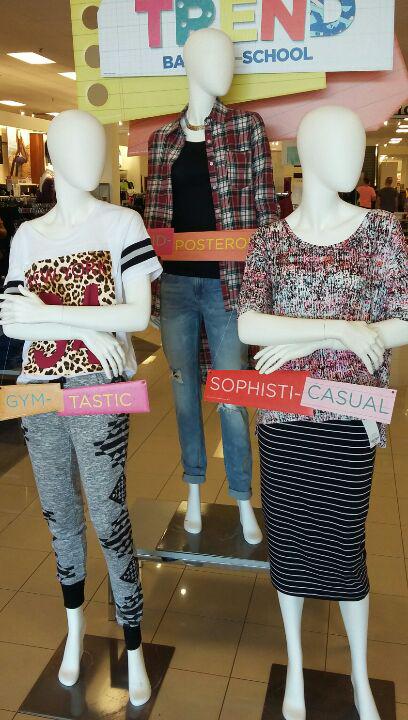 Yes, those portmanteaus do sound as if they came from the marketing team's blender, and JCP's real motivation at this time of year is to get parents to part with as much of their money as possible (it's every retailer's motivation, really).  But the idea of "Bend the Trend," to me at least, is a really cool one:  Empower kids to make good choices in regards to school clothing, and it can lead to self-confidence that can extend far beyond what they wear..  It also has to do with Mom and Dad, in a sense:  Not every parent his hep to every youth style trend these days, and their kids' needs and wants may not comprehend with the parental budget.  Smart parents, though, can still ask their kids about what's hip and not cookie-cutter, or at least let their kids be able to shop for themselves, albeit within certain boundaries.
Speaking about having kids shop for themselves, there's a great post I came across on the Overstuffed blog, where mother/blogger Lara let her kids run wild shop at JCP, giving each of them budget limits. (Though it may not be explicitly expressed, her post may be a form of native advertising on JCP's behalf; still, Lara has some great on-topic thoughts.)  Lara emphasizes lessons on budget and sales, and she also talks up dress code considerations (of both the parental and school administration variety).  Her last bullet point in the post is a great one, too: "Let them choose."  She empowered her children to make their own school clothing choices, impressing upon them to think critically and thoughtfully about what they wanted to buy.  Lara describes in her post of being floored by what her children picked out, as well as the reasoning they used for their choices.  It's a great post and a great way to parent (and I hope my sisters will use that "make your own smart choices" approach with their daughters).  It also beats relying on hand-me-downs or advice from an aunt on styles that haven't been popular since the Eisenhower administration. (Not that I'd know, of course; it's just that… oh, okay, my aunt once knitted me a loud sweater in gaudy colors, and I still haven't gotten over the embarrassment of wearing it to school.  It did keep me snug and warm though, so I credit her for that.)
---
A couple of other things for the grownups at JCPenney that I came across Saturday:  There are markdowns for the big girls, including two these Bisou Bisou dresses.  The red scuba sheath dress on the right has a nice mesh yoke around the cowl (front and back), along with nice vertical stripes on the sides.  The stripes on the dress on the left are nicely done, with textures and color blocking that draws attention upwards to the face.  Either dress knows how to make a bold statement.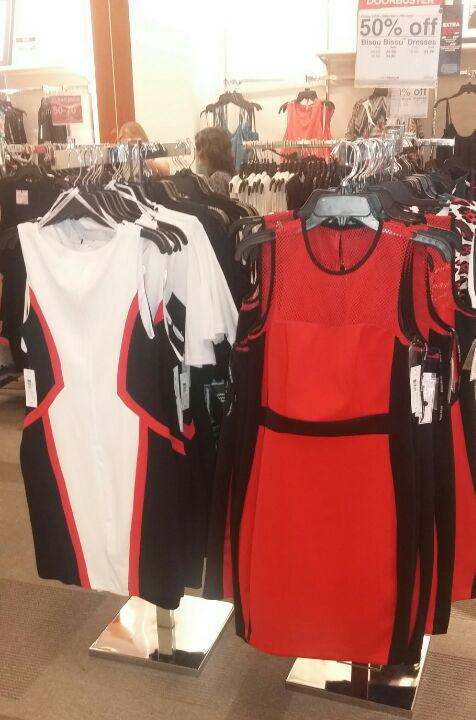 One other outfit I saw at JCP featured this daring skirt that you see in the photo at right.  This skirt definitely makes an eye-ctching statement, doesn't it?  You can't help but notice the zigzag-like chevron patterns on front for sure, but you definitely also notice the asymmetrical zipper that draws your eyes down toward the slit where it ends.
The skirt goes well with the white blouse that it was paired with on this mannequin.  I do note that you can't see the blouse because, well, I had to use a bright exposure and crop the photo later in order to highlight the skirt.  I just bought this brand new phone and I'm still getting used to the camera; I couldn't take the photo with a simple flash as it couldn't pick up the skirt's pattern (the natural light was very low).  Still, even with the bright image, you do get an idea of how a white top can contrast yet nicely compliment a skirt such as this.
And this is an awesome skirt for sure.  You can see a much better picture of it on JCP's website here.  But, let's say you're digging the skirt but aren't too keen to the zigzags on front.  Well, a search of the JCP website features a few more zipper skirts just like this one, ranging from solid color to two-tone shades to patterns even more daring than what is displayed here.  Check it out!
---
Some passing mentions now:  Say you're not in grade school or high school any longer and still want to dress they way you want.  Well, here's where Windsor comes in.  They are a contemporary junior & young adult clothing store that just opened in West Towne last month.  This window display spotted yesterday at Windsor shows off some nice ensembles. (Apologies for the daylight peaking in through the mall skylight.)  Even with some midriff exposure on the 3 outfits on the left, they're all paired with jackets that keep things subtle.  Check out the distressed jeans as well; those exposures are set up in a rather alluring way, aren't they?  All four outfits are nicely accessorized by great necklaces.  All in all, a bit of subtle sexiness.
(Side note about something else spotted on Windsor's website:  How about strutting your stuff in these gray boots?  Thigh-high, made of supple faux suede, and featuring pointed toes and relaxed fit, these certainly make a sexy statement.)
Even though it's only August, the stores would like to remind you it's never too early to shop for a homecoming dress. (Homecoming? Already?)  Here, going left to right, are options from three separate stores:  You can go with short and glittery, as shown below left at JCPenney.  You can go with long and flowing, as shown below middle at Windsor (yes, that short dress on the left looks a bit flowing).  Or you can demand attention in glittery gold and black in this dress found in the window of Dry Goods.  (A note about the Dry Goods dress: Not even 15 minutes after I snapped this picture and walked away, the dress was already replaced in the window.  I guess someone really wanted that dress.)
One last photo to share:  I came across these women's workout shirts in the plus-size department of JCPenney.  As I've noted before, I have a real fondness for shirts that display awesome sayings.  Both of these shirts have hot colors for sure, but they have awesome — and FIERCE! — messages of strength and confidence on front.  I love both of these!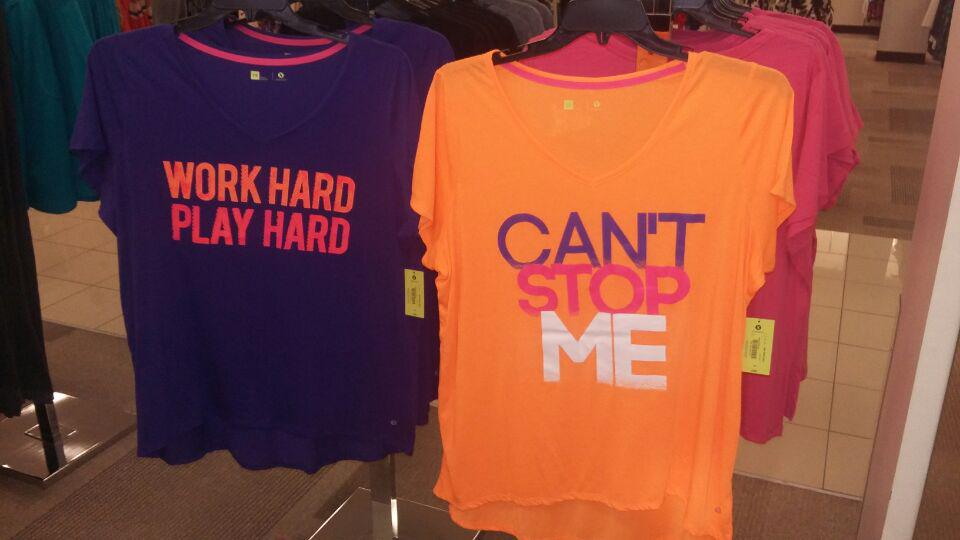 So, what do you think about these outfits?  Feel free to comment below.  Thanks so much for reading!