Yeah, this "amateur fashionista" is embarrassed to admit she hasn't blogged about fashion and clothing since… uh, earlier this month, I guess.  Rather than bore you with posts about marriage equality, graduation, and my mother, I'll dive into some cute summertime outfits spotted this weekend at West Towne Mall.  When you think "summertime," you think of being laid back, going casual, and dressing as such, so let's start off with outfits spotted on display at New York & Company.  They each basically have the same design, v-neck top and shorts.  The two in this first photo both have tops with the same pattern, collars above the v-necks and pockets.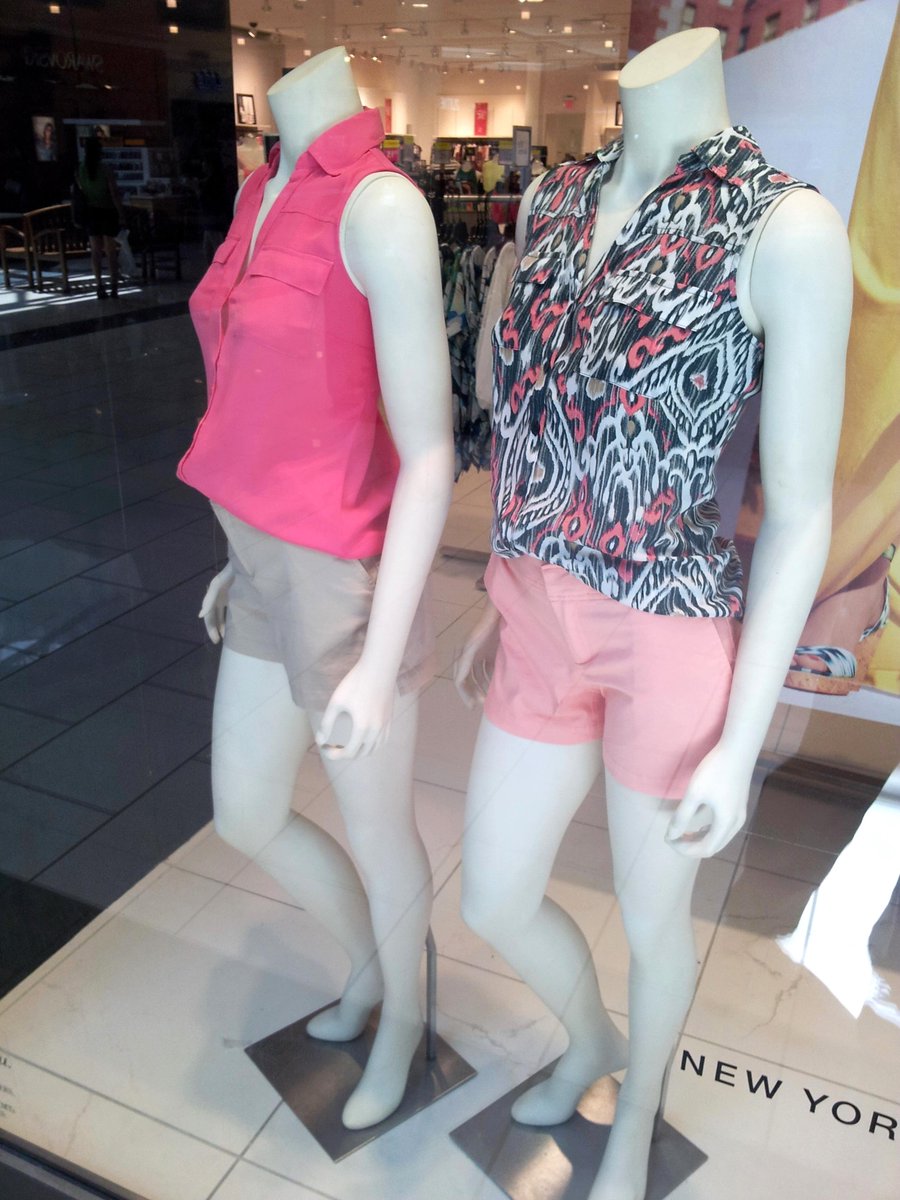 This outfit, also at NY & Co., has the same setup as above.  Though the shorts are the same, it's the top that's different; the collar flaps and pockets are gone, as is the button-down front, meaning the front needs to be sewn together for the top to be presentable (the v-neck stops at the breast area).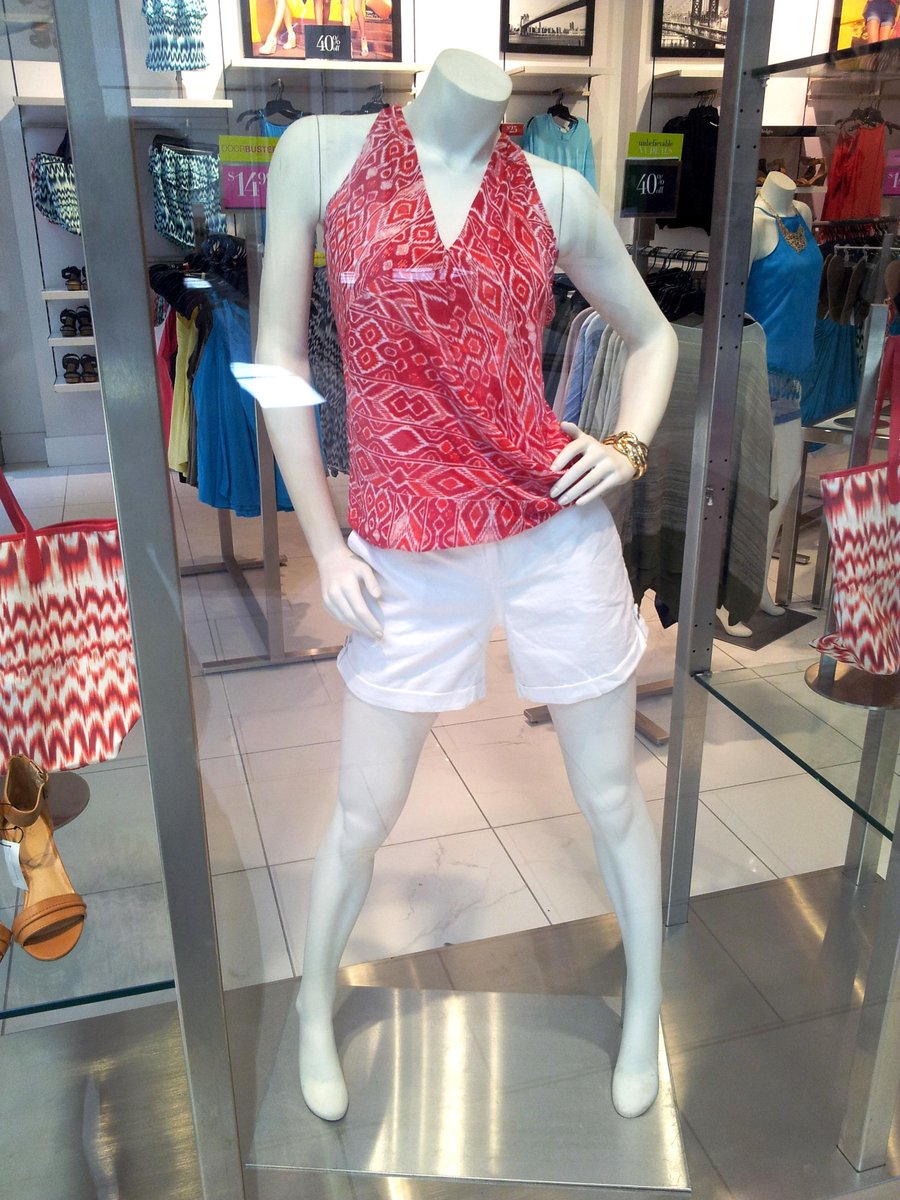 Though its neck line is shorter (or appears to be shorter), the collar-free look sort of gives this top a more dramatic look compared to the tops in the top photo.  But, if you want to show a little more uh-huh, go the button-down route this summer.
---
For those who want to be a little more modest this summer, Ann Taylor had this outfit on display.  The dress and matching jacket have muted and understated colors (off white and dark gray).  What's really cute is the lace edges at the hem of the dress; it's a nice combination of understated and frilly.  This outfit is perfect for a more formal outdoor occasion this summer, or at least anyone of a certain age who want to present themselves as mature and matronly (say, perhaps, a girl in their mid-40s like myself; just saying).  For the record, this is not a photo shot in black-and-white; it's just the color of the fabrics and the lighting that suggest the lack of vivid color.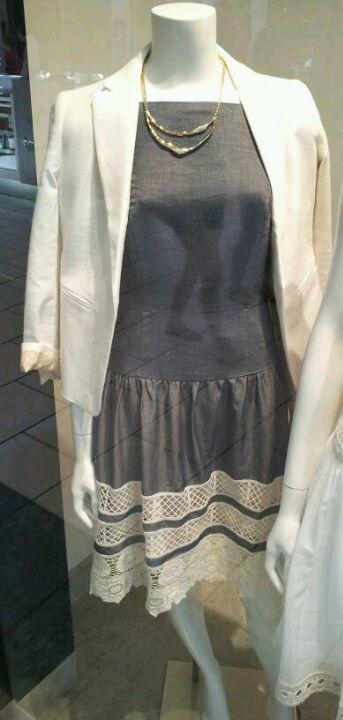 Oh, note the necklace topping off this outfit; it's as nice and understated as the outfit.  It's a pretty awesome accessory, if you ask me.
---
Speaking of accessories, I spotted these two on display at JCPenney.  This necklace is obviously much more extravagant than the one shown above, featuring sunburst- and flower-like designs.  I wouldn't pair it with a dress with a high neckline (like, say, the dress shown above); this is more suited for when you want to show some neckline.  The hat looks cute, though it doesn't seem to me like one well suited for summertime; it's more of a hat you'd wear to something like, say, a get-together at the bar with friends.  That's not to say a hat isn't something I'd go for this summer; this hat is actually inspiring me to seek out a nice floppy hat, one you'd wear to the beach or a late afternoon walk to keep the sun out of your eyes. (I mean, it's summertime after all.)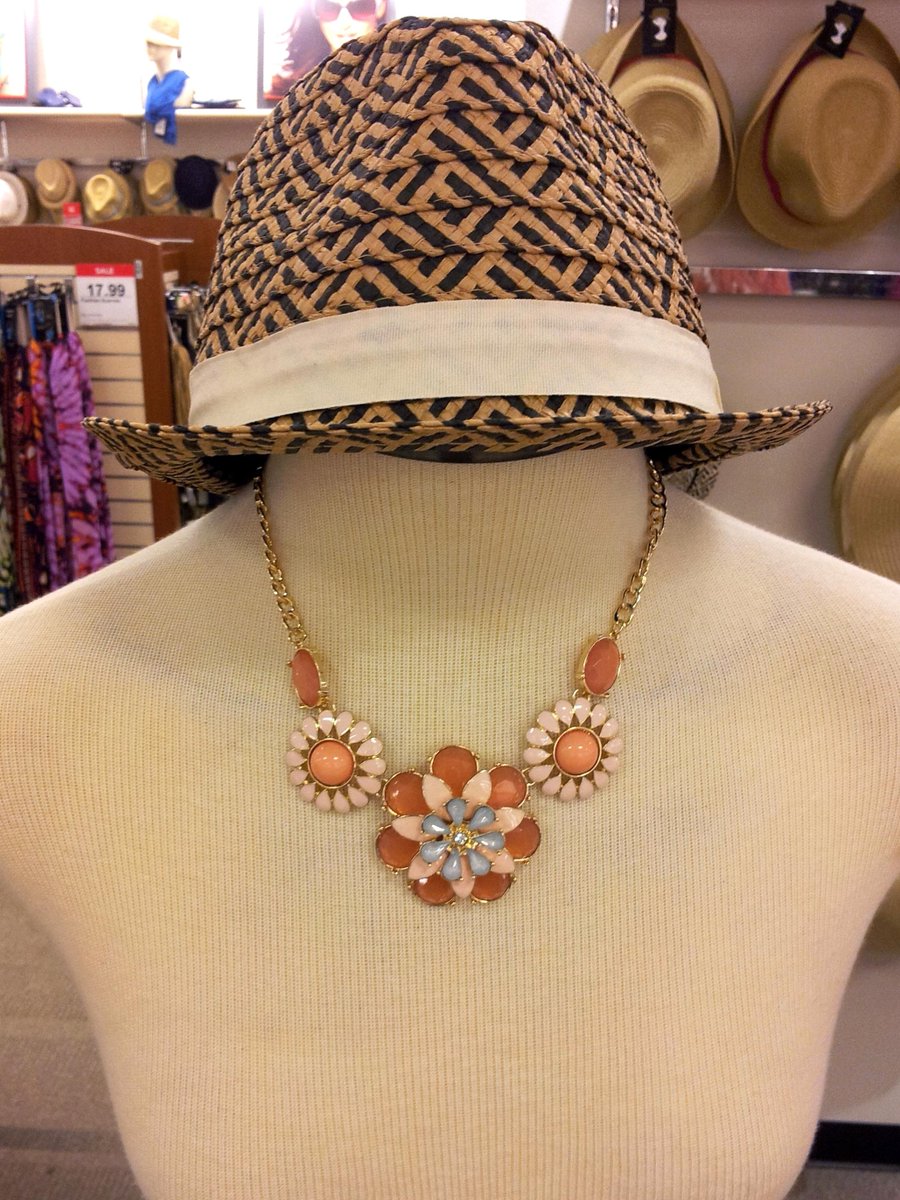 ---
One trend I've been noticing at the stores lately, and perhaps you have as well, is fabric that has laser cut patterns.  I've really noticed it more in faux leather styles, but I've seen it in other fabrics.  For example, check out this maxi dress spotted at JCPenney.  Notice the cutout pattern cut going up and down the polyester/spandex fabric; it's consistent, repeating, and suggests air bubbles in a body of water (a suggestion that'd be much more obvious if this dress were in blue, though coral is a nice color in itself).  Note, too, that the upper half of the dress includes an inner layer of fabric, meaning there's no suggestive show of skin other laser cut pieces may include (like, say, something like this outfit would suggest).  Overall, this particular dress is nice for just wrapping yourself in after exiting the pool and drying off (as its entry on JCP's website suggests), or even an outdoor occasion that's somewhere between formal and backyard casual.

Oh, speaking of blue color, when looking up this dress on JCP.com, I did notice a similar dress on the site.  It's not the same cut pattern as what's shown above (its lacy pattern is prominent all around), but it serves a similar summertime role, and even has a more flirtier feel.  Take a look at it below and check it out online here.
---
Getting away from exclusively summertime wear for these last two items.  There are clothes you see in stores that you just want to drool over, but then you notice the size and realize, bummer, you wouldn't be able to fit into it.  Such is the case with this dress spotted at Sears.  I love how the neck area and straps give a dramatic effect, while the ruched folds add drama up and down the front.  I snapped a photo of this dress on the rack, then I looked up at the sign above from the ceiling that said, "Juniors."  Bummer.  But to the juniors reading this, I imagine you'll rock this dress.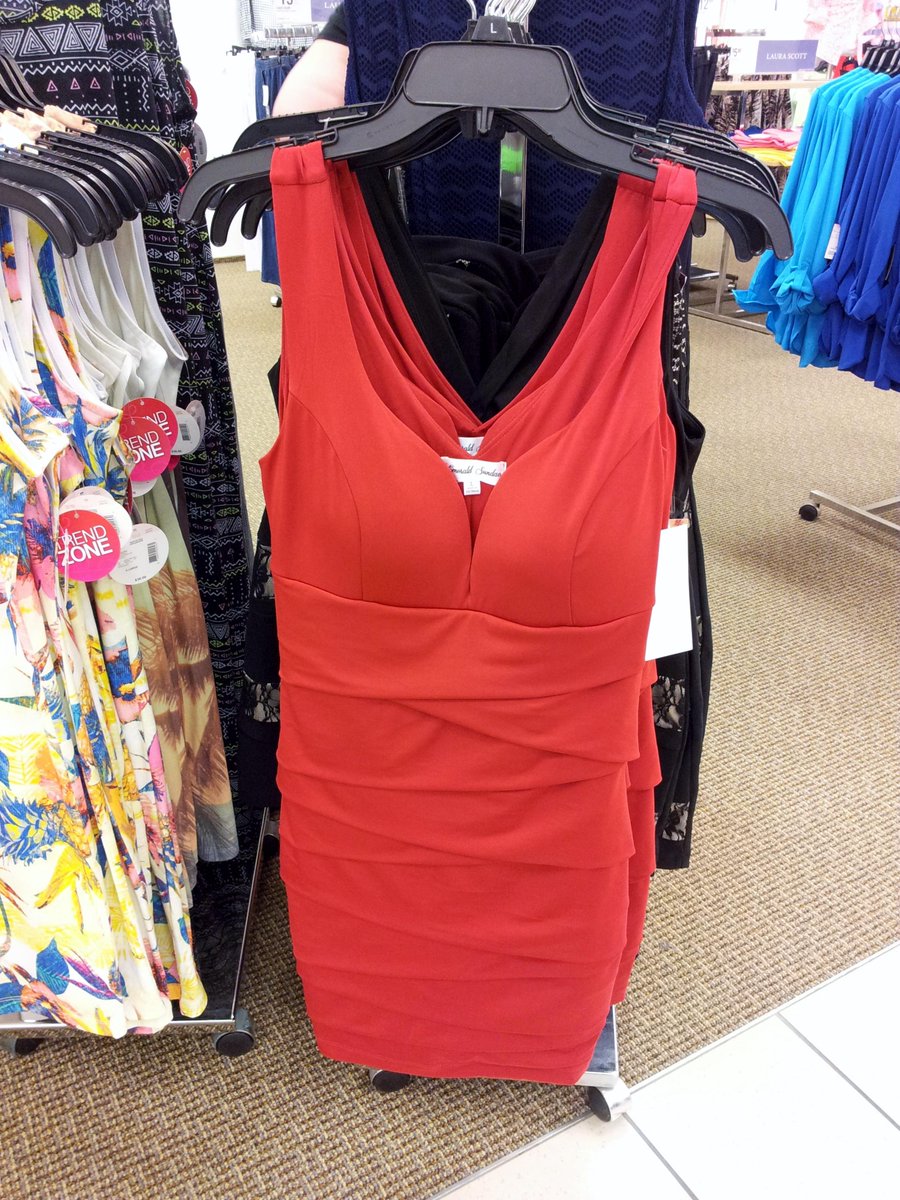 To me, any dress would look good with a motorcycle jacket of any kind; it's the sense of melding glamor with edginess that piques my interest.  The above dress would go well with this motorcycle jacket spotted yesterday at Forever 21.  When you think "motorcycle jacket" or even "bomber jacket," you think of nothing but leather.  Here is an exception to that rule, though.  This jacket is is 95%-to-5% polyester-to-spandex, and yet, the thickness of the shell and the layout of the asymmetrical zippers and snaps give it the edge that a jacket in 100% leather would have.  This is a truly awesome jacket… and one that I can't seem to find on Forever 21's website at the moment, although this link features one of slightly similar material and design.