If the high school near you hasn't had their spring prom yet, in all likelihood it will this weekend or next.  The high school located one mile from where I live is staging its prom on the day I'm writing this post.  If you go or have gone to a prom, it's natural you'll see more than a fair share of formal wear on both genders: Tuxedos with cummerbunds (or at least a decent dinner jacket and slacks) on the males; elegant, glittery dresses (or at least a very decent dress) on the females.  Perhaps those going to proms this spring might wear the types of dresses I've highlighted previously on this blog (such as the ones here or here), or more elegant items such as those I saw last week while window shopping at East Towne Mall.  One such dress that knocked my socks off at first glance was this long, black gown.  It's flowing and fits the figure well, but check out the sequins, stones, and sparkles adorning the shoulders and chest area.  The bling really makes a statement, one that will certainly command the attention of everyone at the dance.
Another dress that is also bound to draw attention — and may not be permitted at most proms, depending on how prudish and conservative the school staff and chaperones are — is this dress displayed by Mirage.  The first thing you notice is the bare midriff, which is likely a non-starter for the school dance since, well, it's a little too suggestive. (*ahem*)  Getting past the midriff, you also notice the sparkles on both the halter top and the waistband holding the flowing fabric of the skirt.  Now, I can understand why the principal would frown on someone wearing this dress to the prom; if he or she are of a certain (much older) age, it'd probably remind them of the type of harem outfits Barbara Eden sported on I Dream of Jeannie ("Anything you wish, Master").  Despite any reservations, this is still a great dress.  And, hey, if you can't wear it to prom, you can always wear it on an award show's red carpet; just walk toward the paparazzi and bask in the attention and the camera flashes.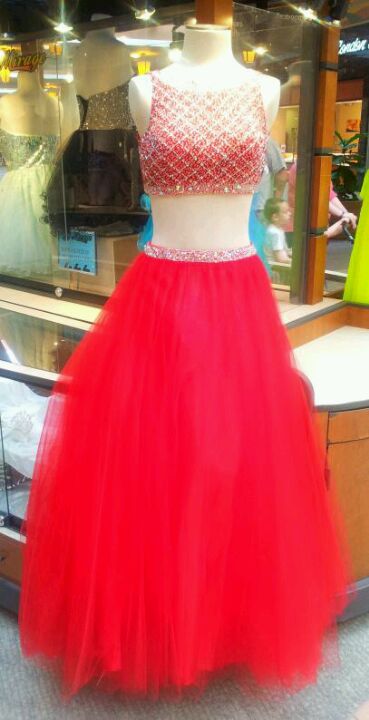 If you want something that is formal and more traditional, Mirage also had on display this totally gorgeous yellow gown at their entrance.  The young'ns in your family will probably think this would come right out of a Disney Princess's wardrobe.  It appears well suited for the prom (bare shoulders notwithstanding), and would look so natural on a bridesmaid.  Really, it's a truly stunning dress for any formal occasion. (And the photo doesn't do it justice; one look at it in person and you'll be floored.)
---
Looking at all these formal dresses, I'm tempted to compare them to the types of formal wear I was accustomed to seeing when I was a high schooler in the 1980s.  These days, the sparkly, sequined dresses are more mainstream and affordable.  In my teenhood in the '80s, the only way to see a sequined dress would be on Dynasty or a similar nighttime soap opera where the cost of such dresses would be just a drop in the bucket for their well-to-do characters.  Since I lived in a small town/rural area, our definition of "formal dress" would be a long sleeved shirt and pair of jeans that were clean and didn't have any tears or tatters.  When it came to occasions like a prom or a wedding, the girls would usually put on the same type of dress for both occasions: Long and flowing, with silky chiffon and/or lots of lace.  You know, dresses that were still in the closet since that relative's wedding and were just wanting and waiting to come out for the next elegant (or semi-elegant) occasion.  Like something as lacy as these:
Or something as bright and eyecatching as this emerald green design that more than likely came straight from the dress shop:
Or perhaps a dress that had understated glamor yet whose poufs and frills were as big as the hair (it was the '80s, after all).  Kinda like this:
Or even the types of dresses that appear to have come right off the backs of a bridal party, or at least some big cotillion at some antebellum mansion in the Deep South.  Sorta of like this:
Sadly, I was the kind of kid who never went to prom while in high school.  Matter of fact, since I was rather shy and reserved and always wondering and worrying about my school work and keeping my grades barely above the barely passing level, I never went to the prom or homecoming or any other type of school dance.  Of course, it didn't help that I didn't have a drivers license or my own set of wheels; my mom worked at night at a restaurant back then, so she always used whatever set of wheels we had.  Plus, the girls in my class never considered myself "date for the evening" material.  So, yeah, there are times where I do regret never going to prom.  I wonder, though, if I would've had a good time anyway, what with me being the wallflower type and having two left feet (I so cannot dance).  But then, perhaps a simple conversation next to the punch bowl with a listening classmate would've been a good highlight of the evening for me.
Even though my time for the prom has long since passed, I can still live vicariously through the internet, where I can admire proms of the past such as those pictured above, or just look longingly at prom dresses available for sale on the internet or at the formal wear shop.  Who knows, perhaps one day I may buy some long, flowing formal dress that will fit me in a flattering way and use it to impress everyone at the prom in my imagination.
Do you have any prom memories or prom outfits you wore or would've loved to wear?  Feel free to share below.  Thanks!