Scrolling through my feed on Google+ this weekend (and, yes, I am indeed on Google+), I came across this awesome outfit from Charlotte Russe that looks so awesome for spring and summer.  The skirt is this solid bodycon mini skirt, pink in color, stretch cotton in fabric, and high in waist.  The skirt really hugs the curves, and the neon color really pops!  In this photo, the skirt is paired with an equally cute destroyed (distressed?) denim jacket.  The jacket has a lightly washed fabric, and goes well with any skirt (its entry on the Charlotte Russe website pairs it with a flowing white skirt).  In the above photo, the pink of the skirt really helps the denim blue of the jacket to pop as well.  The pink and blue pairing feels like a suitable combination for the dual spirit of a girl like me (blue for my male side, pink for my female side).
---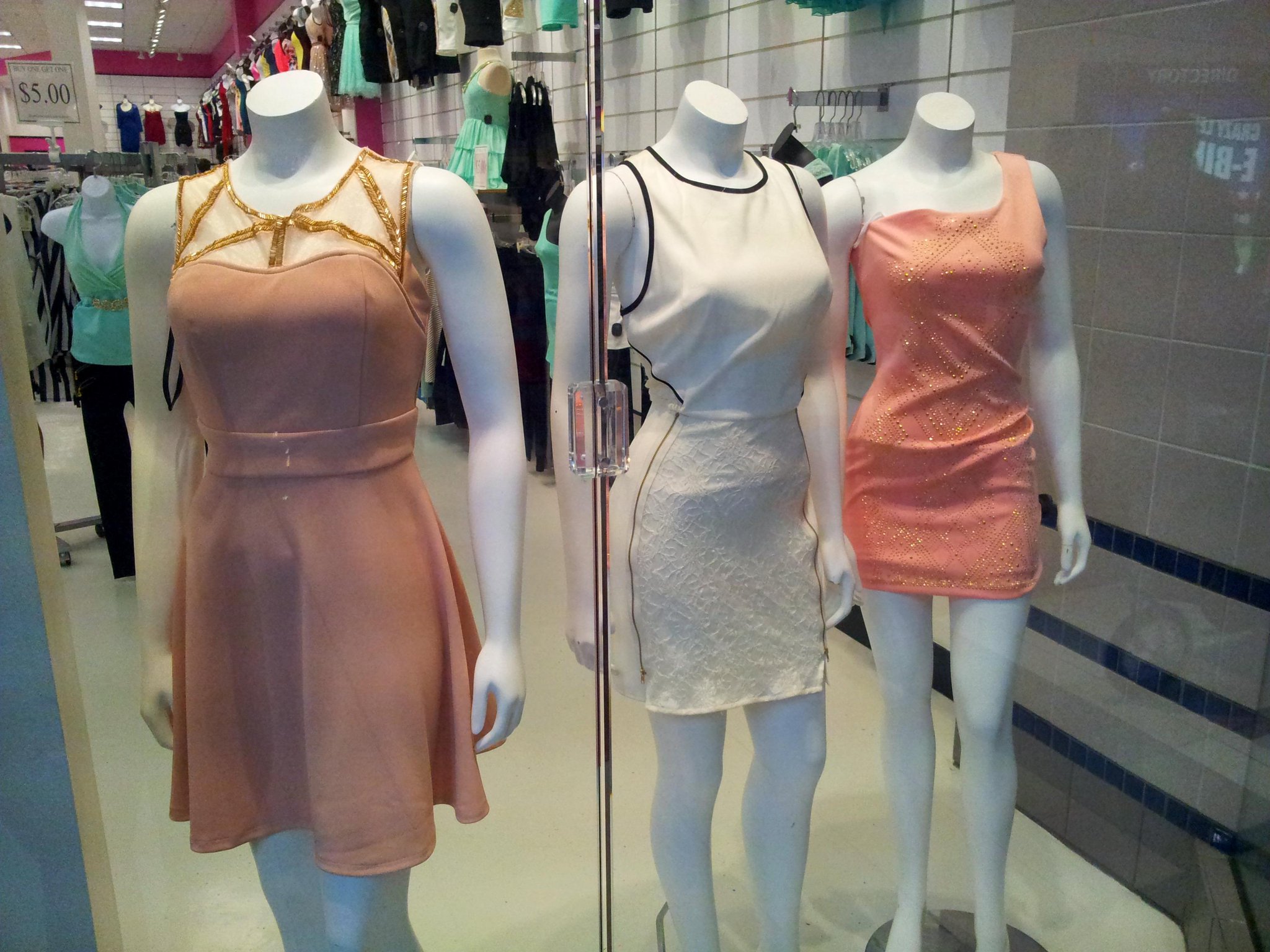 Just a friendly reminder to you teenagers-at-heart out there that prom season is winding down.  And if you're in the Madison area, consider this a reminder to check out Tiger Lily while they're still set up for the season at West Towne Mall.  The above photo has a great trio of dresses suitable for prom or whatever party you have in mind.  My two favorites here are the one on the left with the gold lace shoulder areas and the peach dress on the right with the bare shoulder (I have a weakness for dresses with dramatic appeal).
Just a couple more photos from Tiger Lily of dresses that caught my eye:  Another dress with dramatic appeal is featured below left, a strapless dress that makes good use of the scrunched fabric, and it's perfectly paired with a dramatic necklace. (Pay no mind to the crack in the mannequin's chest area; I guess Tiger Lily is using hand-me-down displays for their seasonal location.  No big deal about that, IMO.)  Below right is a bright blue dress (the color is more vivid in person) that has its own dramatic effect thanks to the batwing-like lace shoulder areas; the belt serves as the perfect compliment.