Returning from Madison after visiting my mother and my sister's family during the long Christmas weekend, I went to West Towne Mall and snapped a few more fashion pics, some of which I'm featuring on this post, which is devoted to party wear since it's two days before New Years' Eve as I write this. (Hey! There's still time to pick something cool to wear for the occasion.)  As I've mentioned before, one tends to see lots of sparkle and glitter on dresses during the holiday season, and this particular dress at JCPenney has sparkle to spare.  Though the waist area is a bit noticeable, the bright material doesn't intend to draw attention to that area, making this dress a nice idea for anyone of any size.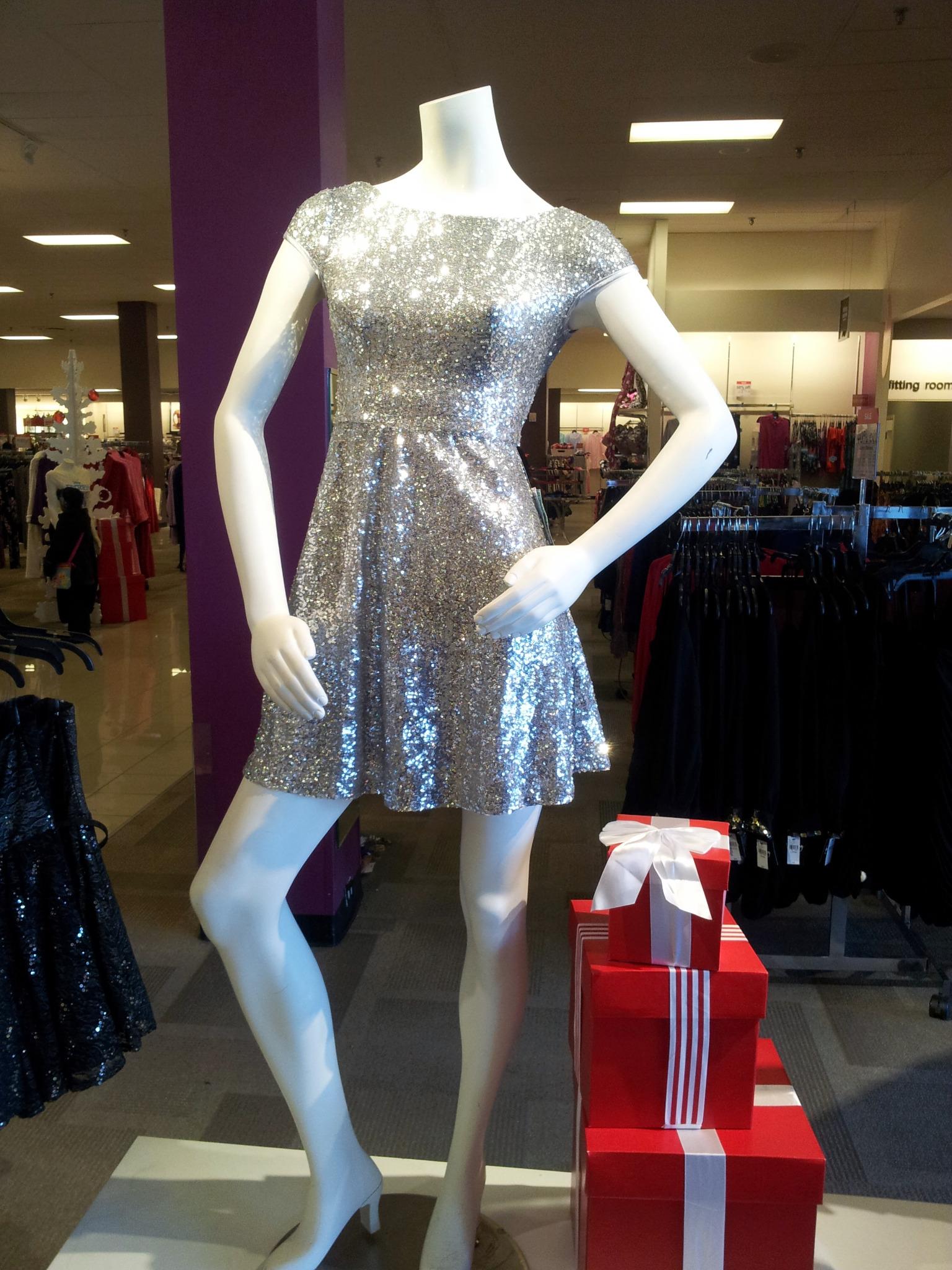 Forgive this next photo for not showing a lot of sparkle; I did take a separate photo of this blue sequined crop top I spotted at Forever 21, but the result was very blurry. (Luckily, I found it available on the Forever 21 website.)  Anyway, the top is quite the eye catcher, not to mention a light catcher as the sequins are all over.  The top is paired nicely with the black skirt in that link, and it's also paired well with a knit coat this Forever 21 store displays it with (it's 3/4-sleeved like the top but still gives a feel of ample warmth on a chilly New Years Eve night).
I spotted these next two displays at Body Central, and I consider these outfits quite a contrast in class.  The outfit in Photo #1 has shorts with sparkly patterns, but it's paired with a rather gaudy faux fur jacket, cropped shirt, and long necklace.  To me, the whole outfit just says, "Hey, wanna 'do something' somewhere? I'm easy." (*eyeroll*)  The dress in Photo #2, on the other hand, features a skirt portion with a similar pattern found on the shorts, but has an air of class when joined with a simple sleeveless top portion and a simple (tucked in?) necklace.  If I'd have to choose one look or the other, I'd go with simple and classy in a heartbeat.
Okay, so you wanna wear something that will get attention but would rather forgo all that sparkle.  Okay, no problem.  This dress, also spotted at Body Central, has a very dramatic neckline and is paired perfectly with a gold necklace, cufflinks, and purse.  A terrific look indeed, and hands down my favorite of all the items spotted Sunday.
Or, if you prefer the monochrome look, consider these two dresses offered by Express.  Yes, they're both sleeveless and black in color, but they are two different styles.  You can go for the broad shoulders and scrunched fabric, go for the dress in the background; if you'd prefer sleek shoulder straps and lovely crossings in back, the one in the foreground is for you.
What are your dress preferences for a New Years Eve night out?  Share your ideas in the comments.  If you're not a party person and would rather sleep in the New Year, that's okay, too.  In fact, you'd be in good company; sleeping past midnight is my preference as well.  Whatever you do on New Years Eve night, make sure it's a safe, enjoyable occasion.