I am in the midst of a week-long vacation from work.  Well, it's not so much a vacation as it is a need to use up well-earned vacation time before I lose it at the end of the year. (I am so much of a workaholic, I must confess.)  Actually, this vacation week will be a somewhat busy one for me: I'm taking my car to the dealership for its 30,000 checkup on Monday; Tuesday and Thursday will be chock-full of volunteer opportunities for me (the latter day especially); and the rest of the time will be spent paying bills, cleaning house, and doing some holiday shopping (or window shopping at the very least).
My vacation time commenced on Saturday, a day where the weather was pretty nice for December in Wisconsin (mostly sunny albeit breezy and with a little chill, but no rain or snow whatsoever).  So I walked down to West Towne Mall to do a little bit of window shopping.  I note the fact that I walked to the mall, because the combination of a Saturday afternoon, the holiday shopping season, and a busy shopping center can cause lots and lots of traffic issues, not limited to the image shown below.  Note the cars stopped in the middle (the middle!) of the intersection?  They're waiting for the traffic light at the next intersection ahead to turn green.  This particular stretch of Gammon Road (on which West Towne Mall is located) does not have the greatest traffic flow in Madison (the street light in question tends to stay on red for the longest time, causing backups like the one displayed here).  Perhaps one day the city will get around to improving the traffic flow on this road. (They could also consider repaving the road, but that's another story.)
But enough about mall traffic, let's highlight some fashion finery.  In a previous post, I mentioned the holiday season tends to feature lots of sparkly, sequined outfits.  I spotted a couple of new dresses displayed at Dry Goods that fit this trend to a T.  In the photo below, the gold sequin patterns really stand out against the black fabric; the black sequined number next to it has nice patterns, although that scarf seems a little to comical to be paired with it (it's sitting on the mannequin the way a mattress sits on a bottle of wine, to paraphrase a Bob Dylan lyric).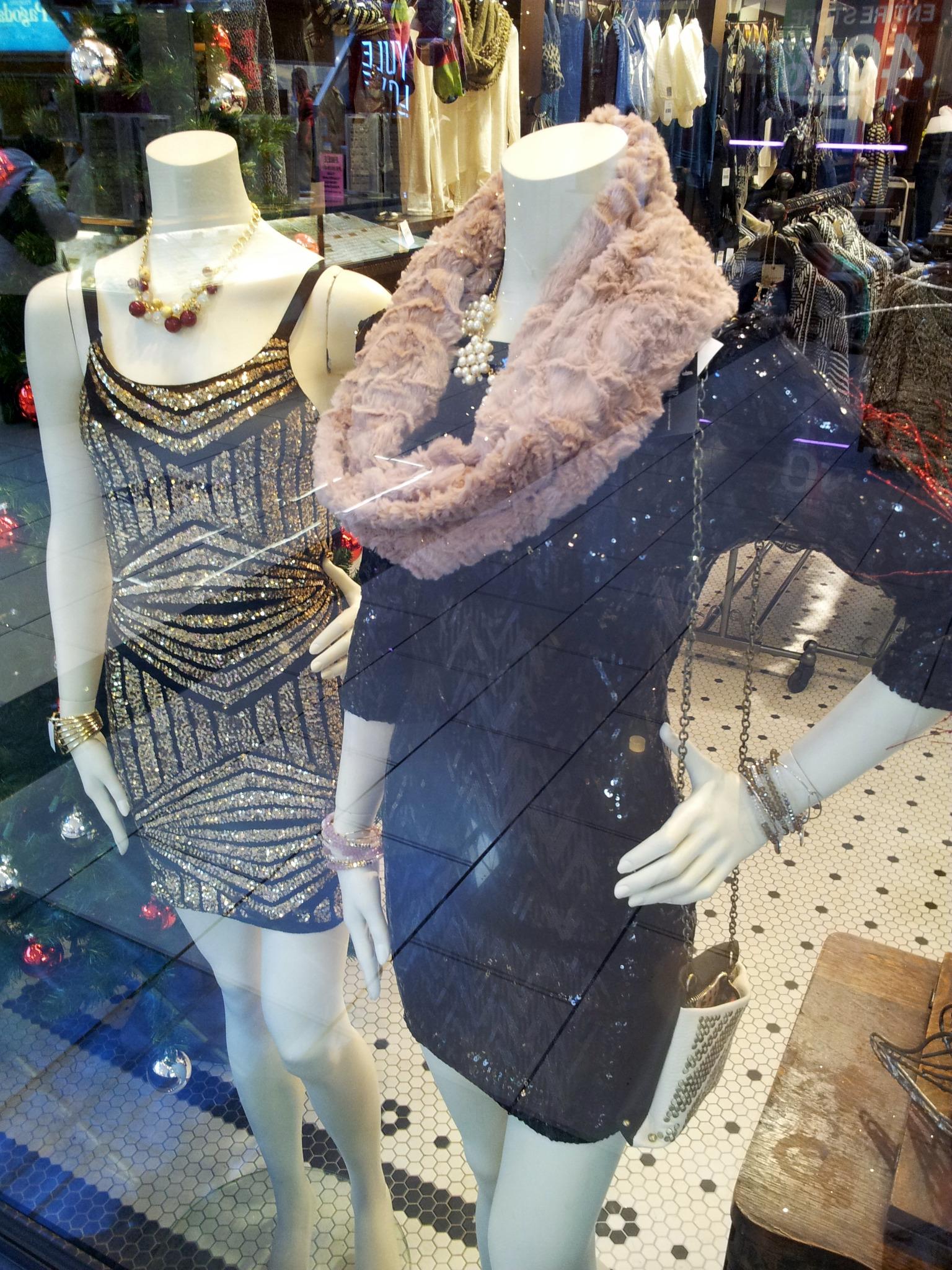 This photo features another sequined dress featured at Dry Goods; it's a nice gold, sleeveless number, and the oversize necklace paired with it makes for an eye catching accessory.  Overall, this is a nice, elegant, look that will be perfect for any New Years Eve to-do.
I strolled on over to H&M and spotted a display featuring 3 cool ensembles.  The mannequin in the middle has a nice pairing of jacket, short sleeved shirt, and jeggings.  The displays in front of and behind it feature skirt-and-shirt pairings (leather skirt with gray casual top in front, sweater with frilly bow and skirt in back).  Pair the leather skirt with the sweater, or even the bowed skirt with casual top, and you can't go wrong… although all three don't look to bad as shown.
Over at Body Central, the big thing on display is a cozy cardigan.  And it's not just any regular old cardigan, either, for you can wear it ten different ways (it even comes with its own set of instructions), meaning it's likely easier and more exciting to put together than any train set or power drill Santa will leave under the tree on Christmas Eve.
So, what do you think?  Aren't these outfits pretty awesome?  Feel free to add a comment or critique below.