Part of what I want to feature in this blog is some fashion highlights I've come across, either through online links or in person, the latter of which will make up this particular posting.  I must advise that when it comes to fashion, my descriptive skills are more of, "Oh, this is cool" or "Say, these go good together."  In all my years of dressing up, though, I've developed a keen eye to things that go good together, and it's here where I hope to display that keen eye and try to verbally expound on it.
Anyway, after a bone-chilling week in Madison that may have served as a preview of the winter to come (a good coating of snow, daytime temperatures in the teens), we had a little bit of a warm-up yesterday.  Sure, Saturday was foggy and a little wet, but here in Wisconsin, we learn to take and appreciate the nicer-than-normal winter days when we can (even if it isn't technically winter yet); heck, with the winters we tend to have, we're prone to running out of the house and jumping for joy once the mercury goes back above the freezing point.  So, with a warm spell serving as valid reason to head out of the house, I headed out with camera in hand to West Towne Mall on Madison's west side (naturally) to check out some displays and items.
Weekends are generally the busiest part of the week at any mall, even more so from mid-November thru Christmas Day, as it's when all the decorations are put up, the stores start their holiday sales period, and Santa Claus arrives from the North Pole to hold court and lend his ear to all the good little children (however fidgety and rambunctious they may be).  It's no different at West Towne, where Santa puts his elegant chair and conducts his photo opportunities right in front of the kids' play area.  Yes, it's one convenient stop for every child's needs.  Well, two of those needs anyway (visiting Santa and letting out their pent-up energy).
While the kids let off some steam (under the watchful eyes of their parents, of course), other shoppers tend to the stores and their wares.  Of course, a gurl like me tends to direct her gaze towards the women's apparel stores.  When November and December rolls around, the deep, vivid colors of autumn starts to give way to the sparkly wardrobes you'd find at elegant to-dos with friends, neighbors, bosses, and other people you're trying to impress and awe.  A good example of this is this matching set of black, beaded crop top and long skirt spotted in the window of Express.  Though the black beads and fabric may create a muted feel, the black beads create a little bit of holiday sparkle. (Note the handsome men's suit in the back, too.)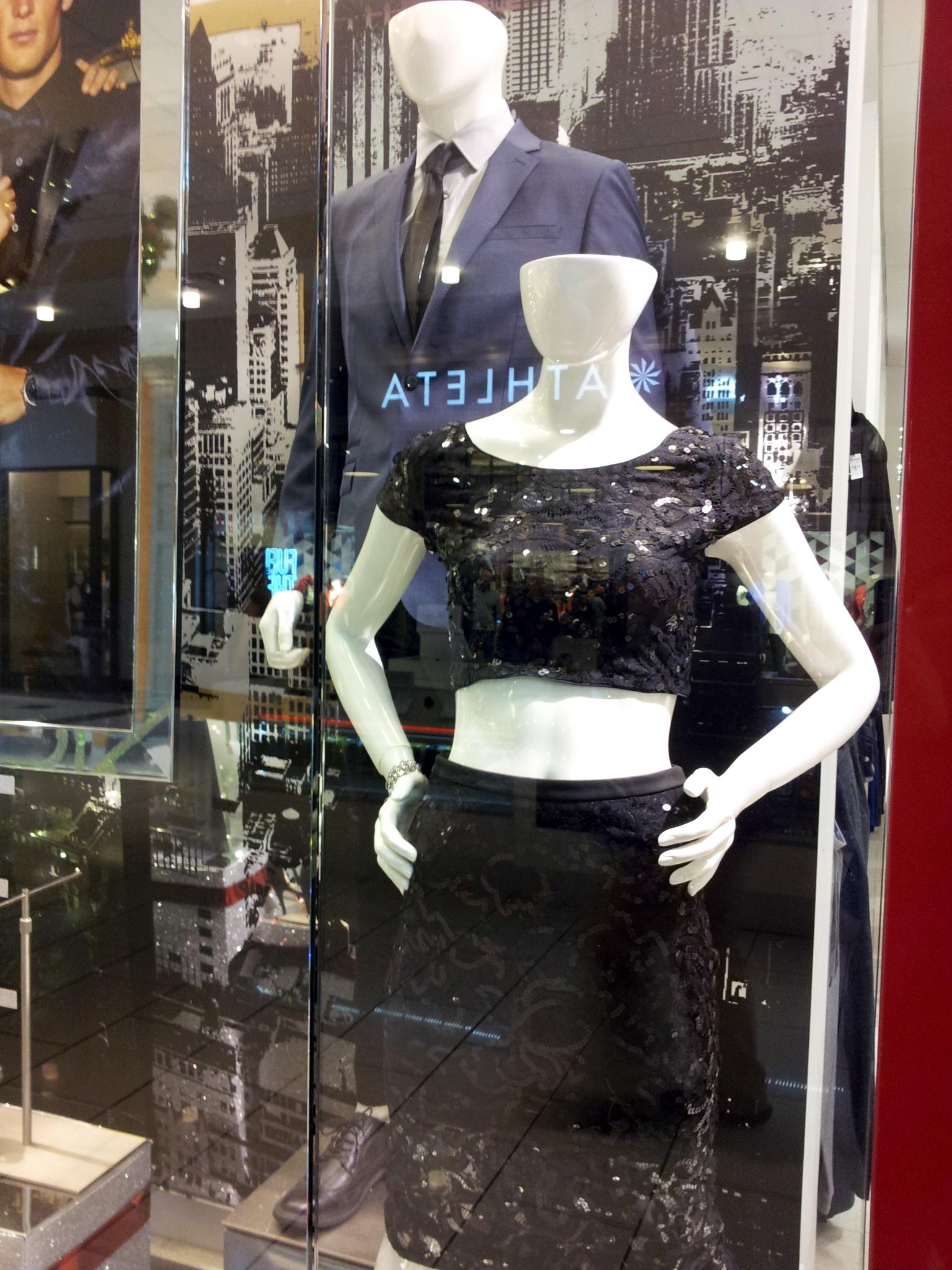 Of course, not all things holiday sparkly need to be black and muted.  Just as they sit perfectly on the tree, silver and gold (or at least, shades of silver and gold) go well on a holiday wardrobe.  This display at Forever 21 highlights a couple of ensembles that give out vibes of "holiday" as well as "winter warmth" (and even "late autumn").  The gold faux fur coat on the right nicely compliments the sparkly top underneath it.  On the left, the long coat keeps the warmth well, and though you may not tell from this angle, it goes well with the cream-colored blouse underneath.
On the topic of Forever 21, I wanted to highlight a couple of other displays:  The men's section displayed some nice outerwear and blazers that my full-time male side found quite attractive (#handsome).  Also, it's nice to see Forever 21 (or at least this particular location) highlight its plus-size section; even a small, generally slender-figured person like myself appreciates it when apparel shoppes promote fashion for those who are not a size 0.
Winter is about more than the holidays, meaning you'll still need to bundle up.  Nothing tops off the need to "bundle up" like a scarf and hat.  Here are three examples I spotted that featured nice use of scarves with outerwear.  The display at Dry Goods feature scarves that aren't too heavy and are nicely paired with a light coat and even a shawl rap (nice for late autumn).  The leather jacket at Express has a nice heavy scarf to go with it.  The display at Apricot Lane shows an oversized heavy vest over a long-sleeve top and capped off (no pun intended) with a cute hat.
Of course, once you're back inside, you still want to look pretty stylish.  I spotted some nice outfits inside Express that look great for a holiday party or casual wear.  A combination of black leggings with a red top make for a bold statement; those same leggings paired with a white top, paneled jacket, and booties create a stylish outfit.
Of course, there's nothing like a top with a cute saying (something I have a weakness for).  This particular muscle tank that I spotted at Express has a wickedly awesome saying.  Pair it with a denim jacket (one was displayed in the rack right above it) and you have a tough, fierce combination.
Any thoughts or opinions on anything featured here?  Want to suggest anything not mentioned here?  Hit me up in the comments.  Thanks!